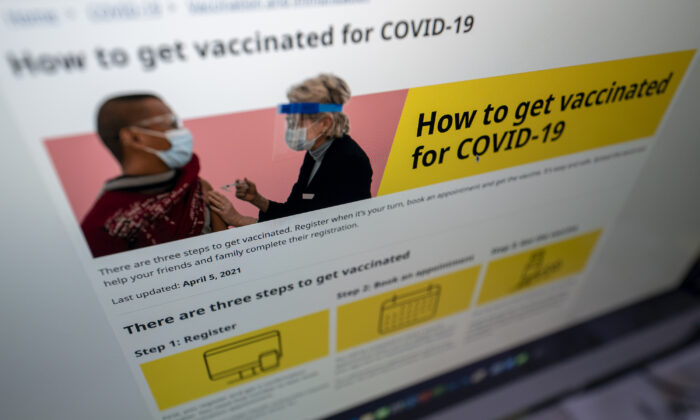 Vaccination information is shown on the government of British Columbia's website on a computer in North Vancouver, B.C., on April 5, 2021. (The Canadian Press/Jonathan Hayward)CANADA
Harms From Vaccine Mandates May Outweigh Benefits, Say Vancouver Coastal Health Officials
The Epoch Times – VCH officials urged the University of British Columbia in mid-February to end its mandatory vaccine rulesBy Isaac Teo March 10, 2022 Updated: March 10, 2022biggersmallerPrint
A group of regional health officials in B.C. advised the University of British Columbia in mid-February that vaccine mandates, passports, and segregated lockdowns may do more harm than good—advice that appears to be at odds with provincial health officer Bonnie Henry's stance.
In a letter to University of British Columbia (UBC) President Dr. Santo Ono on Feb. 16, health officials from Vancouver Coastal Health (VCH) urged the university to drop its plan to de-register students who did not declare their COVID-19 vaccination status or comply with mandatory testing.
Co-signed by VCH's chief medical health officer Dr. Patricia Daly and three other medical officers, the letter argued that the Omicron variant has rendered two doses of the COVID-19 vaccines ineffective at preventing infection or transmission of the virus, though they remain effective at preventing severe illness.
"Therefore there is now no material difference in likelihood that a UBC student or staff member who is vaccinated or unvaccinated may be infected and potentially infectious to others," the letter said.
The health officials also took aim at mandatory rapid testing for unvaccinated students and staff and any related academic or employment sanctions, saying those measures "are not useful" in preventing the spread of the virus on campus.
"Not only is Rapid Antigen Testing of asymptomatic people unreliable in identifying infection with the Omicron variant, but we have no evidence that those who have not complied with UBC policies have posed any public health risk to their fellow students, faculty or staff, even during circulation of other variants," they wrote.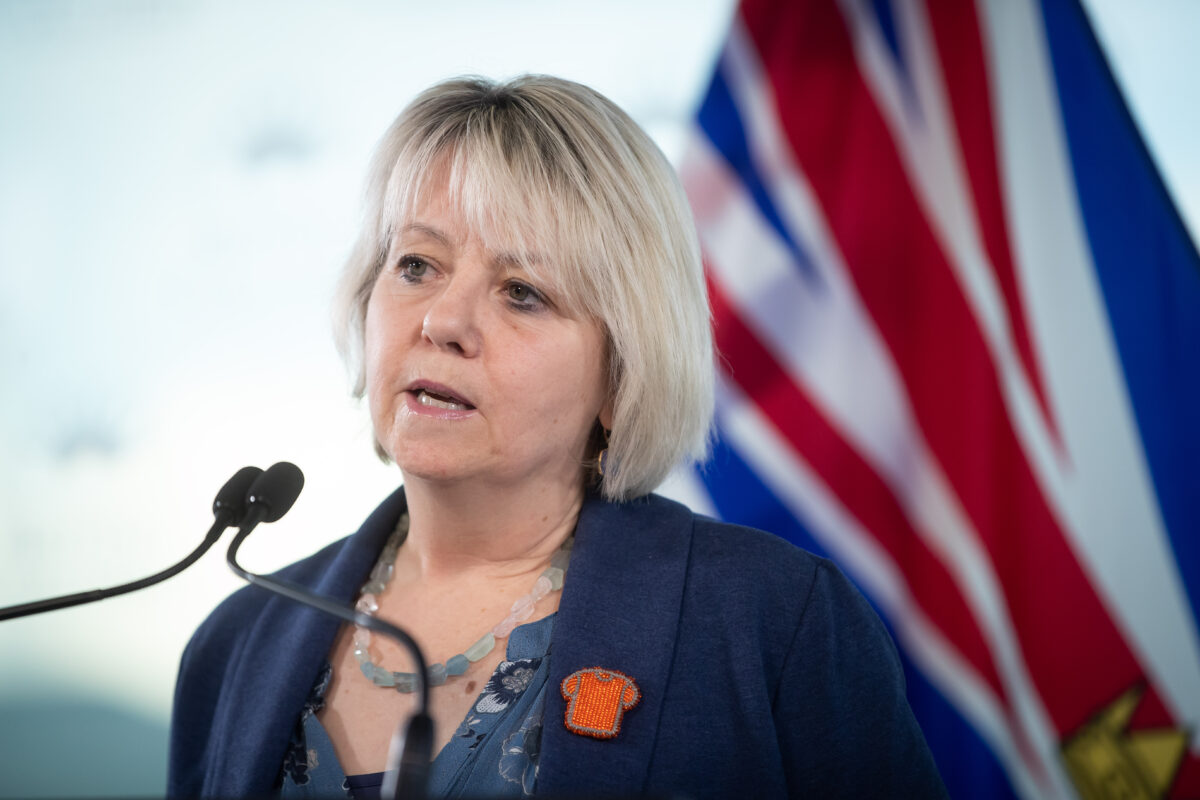 The doctors' position stands in contrast to Henry, who said at a press conference on March 1 that it was still necessary to continue with the province's COVID-19 restrictions though there were "encouraging trends" that the virus transmission was declining.
"There are still many, many areas that have significant transmission and we are still seeing widespread transmission of this virus across the province, which is why those protections we have in place right now remain a necessary part of our strategy, for now," she said.
Henry is expected to announce later today whether mask mandates and vaccine passports are still required provincewide.
'Unintended Consequences' of Mandates Outweigh Benefits: Study
The doctors' letter referred to a study posted on the Social Science Research Network (SSRN) website on Feb. 1 that argues the harms created by mandatory COVID-19 policies may outweigh the benefits.
SSRN is an online repository for preprint research papers, meaning the papers submitted have not been formally peer-reviewed.
The study, titled "The Unintended Consequences of COVID-19 Vaccine Policy: Why Mandates, Passports and Segregated Lockdowns May Cause More Harm Than Good," concludes that vaccine mandates may discourage people from following public health measures in the future.
"Restricting people's access to work, education, public transport, and social life based on COVID-19 vaccination status impinges on human rights, promotes stigma and social polarization, and adversely affects health and wellbeing," said the study, written by public health and infectious disease experts from Canada, the United States, and the United Kingdom.
"Leveraging empowering strategies based on trust and public consultation represent a more sustainable approach for protecting those at highest risk of COVID-19 morbidity and mortality and the health and wellbeing of the public."
The VCH health officials said since universities remain "a low-risk setting" for COVID-19 and that there is "now evidence of the endemic nature of the virus," the institutions should have minimum restrictions on unvaccinated students, staff, and faculty at this stage of the pandemic.
"Such measures may result in profound negative harms on their future health and wellbeing, by impacting future educational and career opportunities, and their mental health," said the letter.
On Feb. 28, twelve days after receiving VCH's letter, UBC announced that it would end its rapid testing program on March 1.
"The evolution of the virus and the presence of the Omicron variant now indicates that a different public health and safety approach should be taken," states the bulletin issued by Ono and Lesley Cormack, deputy vice-chancellor and principal at UBC Okanagan.
Besides taking advice from VCH, Ono and Cormack referred to the recommendation made by the university's COVID modelling team, who wrote to Ono on Feb. 20, that it is time that "UBC shift its focus away from documenting vaccination status based on a two-dose regimen."