Turkish President Recep Erdogan has urged European countries to stop demonizing Russian citizens, citing Germany's firing of an orchestra conductor and drawing parallels between banning Dostoevsky books and the 13th century Hulagu army purge of Iraqi literature.
"Diplomacy; humanity; no-one deserves this," he told the Antalya Diplomacy Forum on Friday. "Our hope is that moderation and common sense will prevail, and guns will be silenced as soon as possible."
Clinic refuses treatment for Russians and Belarusians
(Google Translation) RTL news
In the letter from last Friday (March 4) the private clinic in Munich said, among other things: "We strongly condemn the invasion of the Russian army with the help of the Belarusian government." Specifically, a few lines later: "Therefore, from now on and until further notice, we will not treat Russian and Belarusian citizens."
This sentence sparked criticism on social networks. Instead of solidarity, thousands of users saw racism and exclusion in the announcement.
Clinic reacts to strong criticism with a donation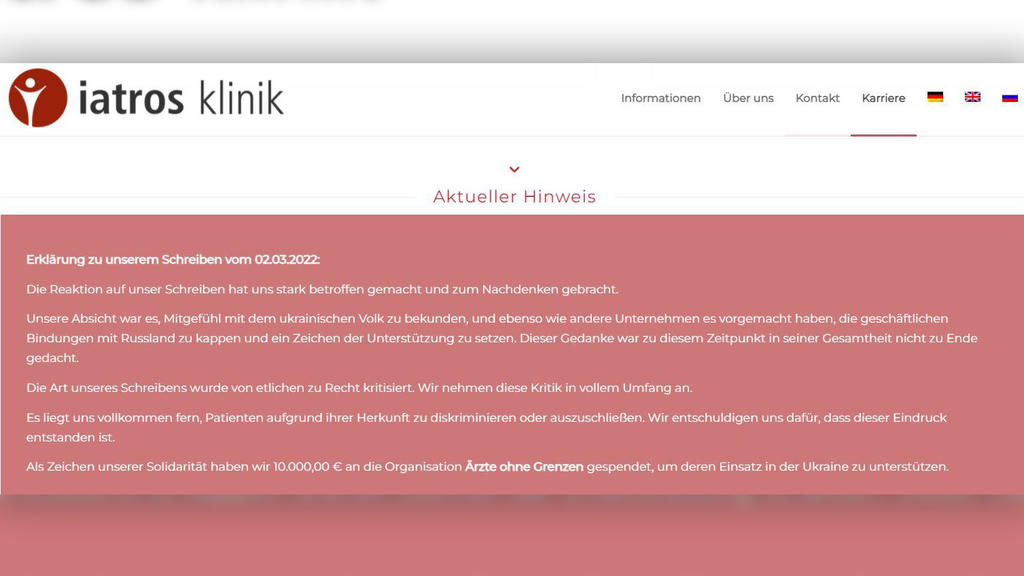 The clinic did not leave the many negative Google reviews and comments on Facebook unanswered. The private clinic has published a statement on its website. It states: "Our intention was to show sympathy for the Ukrainian people". In addition, the clinic admits the mistake: "At that point in time, this thought had not been thought through to the end." It goes on to say: "We fully accept this criticism."
The question remains whether the decision will be reversed. Even if the apologetic lines suggest it: "We are far from discriminating against or excluding patients because of their origin. We apologize for giving this impression." In addition, the clinic donated 10,000 euros to Doctors Without Borders to support their work in Ukraine.