Newsweek – Gilead Sciences Inc. said it is recalling tens of thousands of vials of its COVID-19 drug treatment remdesivir due to glass contamination, which it warned could lead to adverse health effects such as stroke or even death.
The company said Friday that it would carry out a voluntary recall of two lots of the coronavirus product in the U.S. after receiving a customer complaint and determining that some vials were contaminated.
The recall involves up to 55,000 vials, which is enough to treat 11,000 patients hospitalized with COVID-19, company spokesman Chris Ridley told Bloomberg. Ridley added that that the company recall would not impact the global supply of the drug.
Gilead said Friday that it has not yet received reports of negative health events linked to the recall, but it warned that glass contamination could cause severe consequences.Newsweek Newsletter sign-up >
"The administration of an injectable product that contains glass particulates may result in local irritation or swelling. If the glass particulate reaches the blood vessels it can travel to various organs and block blood vessels in the heart, lungs or brain which can cause stroke and even lead to death," the company said.
Gilead said it is now working to inform hospital pharmacies of the recall and facilitate the return of all affected treatments of remdesivir, which is sold under the brand name Veklury.
"Hospitals that have Veklury which is being recalled should stop using the affected lots and return the product vials per the instructions," the company added. "Consumers should contact their physician or healthcare provider if they have experienced any problems that may be related to taking or using this drug product."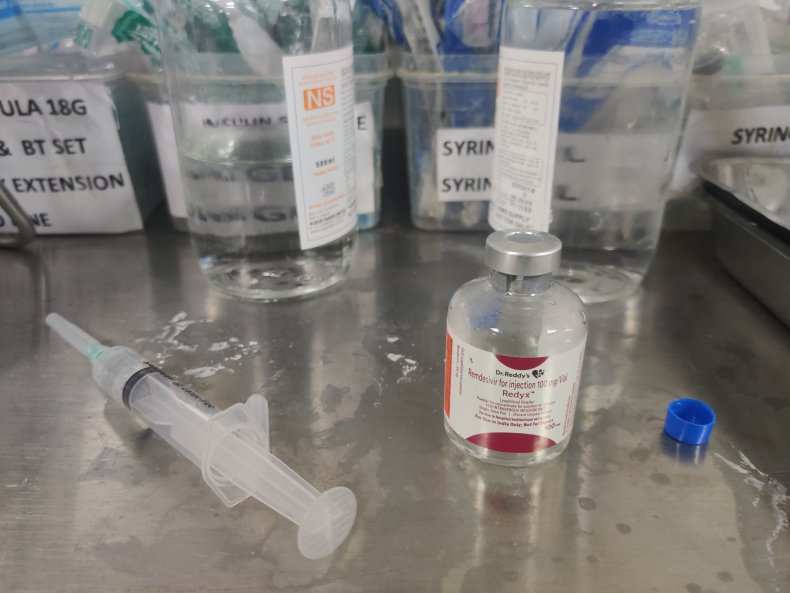 The antiviral treatment was originally developed to treat Ebola and approved by the Food and Drug Administration (FDA) for the treatment of hospitalized COVID-19 patients in October 2020. The treatment is authorized for patients who are at least 12 years old and who weigh at least 40 kilograms, and is "distributed in single dose clear glass vials in powder form and reconstituted at the site of use," according to the company.
According to The Hill, a study in September showed that remdesivir may reduce hospitalizations by up to 87 percent in high-risk individuals when the virus was detected early.
"It is the first antiviral treatment proven to help patients hospitalized with COVID-19 recover more quickly—a significant benefit for patients and their families, for healthcare providers and hospitals, and for society at large," Gilead's chief medical officer, Merdad Parsey, previously said in a letter shared with Newsweek.