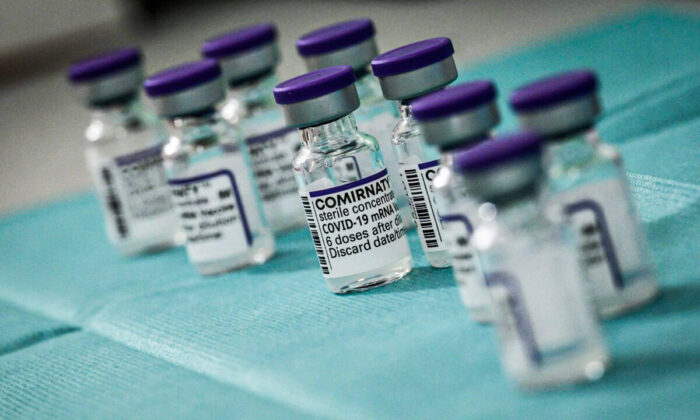 New data suggests that two doses of the Pfizer COVID-19 vaccine don't provide very much protection from infection for children 5 to 15 years old against the Omicron variant of the CCP virus, according to new data published by the Centers for Disease Control and Prevention (CDC) journal Morbidity and Mortality Weekly Report.
The Epoch Times – The CDC analyzed data from the Pediatric Research Observing Trends and Exposures in COVID-19 Timelines (PROTECT) study, which involved 1,364 children ages 5 to 15 from Arizona, Texas, Florida, and Utah. Weekly nasal swabs and surveys were submitted from July 2021 through last month, whether the children had symptoms or not.
"Without regular weekly testing you will miss many infections, particularly for kids, who often have mild symptoms," Laura Olsho, principal investigator of the PROTECT project, said in a statement. "With increased use of home rapid testing, studies like ours are needed to provide more comprehensive information on rates of infection and vaccine effectiveness."
The study found a sharp decline in efficacy against infection when the Omicron variant became predominant in the United States. The Pfizer messenger RNA (mRNA) vaccine (after the second dose) was 31 percent effective against Omicron infection among children ages 5 to 11 and 59 percent among adolescents ages 12 to 15, the study found.
It also found that fully vaccinated children infected with Omicron "spent an average of one-half day less sick in bed" compared to the unvaccinated who were infected with Omicron. However, the vaccinated group missed 11 hours more of school (26.2 hours) than their unvaccinated counterparts (18.8 hours). There wasn't any significant difference between the groups seeking medical care—16.4 percent of unvaccinated children and 15.5 percent of vaccinated children reported needing medical care.
Pfizer told The Epoch Times in an email that the company doesn't comment on non-Pfizer-led studies.
"We do not have a comment on this specific analysis as it is not a Pfizer-led study," the vaccine maker wrote. "However, we are encouraged by the increasing wealth of evidence from independent researchers and real-world data and welcome additional studies."

The rapid decline in protection against infection echoed similar results found in a New York state study (pdf) that has yet to be peer-reviewed.
Researchers with the New York Department of Health said the vaccine efficacy against infection during the first 13 days after the second dose was somewhere between 62 percent to 68 percent for children 5 to 11, and around 71 percent to 81 percent for adolescents aged 12 to 17.
That protection plummeted in the fifth week to a mere 8 percent to 16 percent in the younger group and between 48 percent to 63 percent for the adolescents. By the seventh week after vaccination, the vaccine efficacy was negative for the 5- to 11-year-olds, meaning the unvaccinated children had a lower risk of infection in the 29 percent to 56 percent range.
A former professor at Harvard Medical School, Martin Kulldorff explained why this might be happening.
"A likely explanation is that the unvaccinated children got infected earlier than the vaccinated ones, and once the protection has worn off, the vaccinated children are at higher risk than the unvaccinated ones who have now acquired natural immunity," he wrote in an article. "That is, the vaccine simply postponed infections by a few weeks or months."
Despite the rapid decline in efficacy against infection, the CDC says that "eligible children and adolescents should remain up to date with recommended COVID-19 vaccinations," claiming that two doses of the Pfizer injection were "effective in preventing both asymptomatic and symptomatic SARS-CoV-2 infection with the Omicron variant."
SARS-CoV-2 is the scientific name of the CCP (Chinese Communist Party) virus that causes COVID-19.
Kulldorff says it doesn't make sense for children to receive these injections, as they are at low risk for severe disease and death. In addition, he says there's still no solid data about the vaccine's efficacy on hospitalizations and deaths and that a "proper benefit-risk evaluation" has not been conducted.
"For children, the mortality risk is very small, and the known and any still unknown risks from adverse reactions may outweigh the benefits at reducing hospitalizations and death from COVID, which are unfortunately still unknown," Kulldorff said.
The emergency use authorization (EUA) for the Pfizer vaccine was extended to children based on two randomized control studies for each group that involved over 4,000 participants. The vaccine had a 68 percent to 98 percent range efficacy against mild COVID-19 following the second dose in the trial for the 5 to 11 age group, while it was between 75 percent and 100 percent for the adolescent group.
The Food and Drug Administration (FDA) had authorized the vaccine for children because the trial showed that the efficacy against infection was 50 percent or higher. Whether the new real-world data will affect Pfizer's EUA for children aged 5 to 11 is unknown.